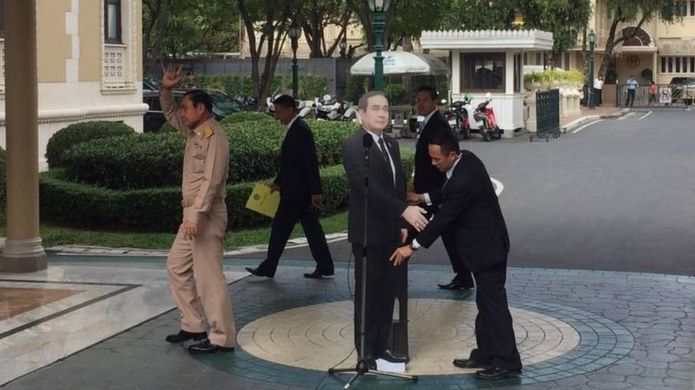 Thailand's prime minister has taken a novel approach to avoiding questions at a news conference, by leaving a cardboard cutout to do the job.
Prayuth Chan-ocha briefly spoke to an audience outside Government House in Bangkok, before the life-sized replica was brought out.
"If you want to ask any questions on politics or conflict, ask this guy," Mr Prayuth said, then walked away waving.
The government has promised to hold nationwide elections, but they have been repeatedly been pushed back.
In April the country voted in a referendum on a new constitution and a changed electoral system, which observers say is likely to lead to a more splintered parliament.
The prime minister did, however, speak to a hand-picked audience of children inside the residence, The Nation newspaper reported.
He said it was important to "engage young people with potential to get in line with 21st-Century democracy".
He also said Thailand "shouldn't be afraid of politics" and needed to "create a new generation of politicians".
Many students who have protested against Thailand's military leadership have been arrested or jailed in the past few years.