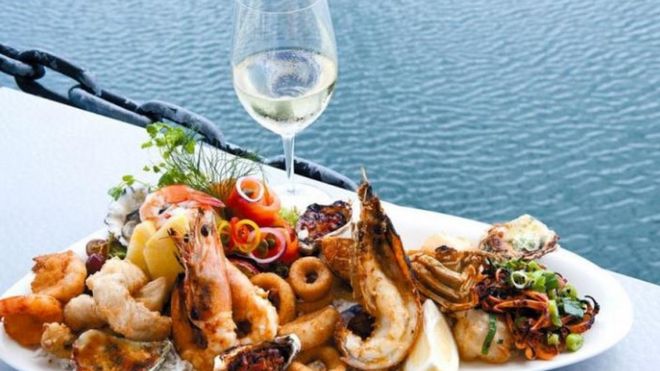 The expensive meal that sent 2Pec running for his life. Photo: BBC
We guess this Australian musician just fell from space and thus never heard of the sayings..."Cut your coat according to your size"....lol. The man dived into the sea to swim with the big sharks after he couldn't afford to pay for his pilled up bills after having sumptuous meals after meals from a seafood restaurant.
According to a report from Punch....
'He allegedly consumed two lobsters, a baby octopus, 21 vodka oyster shots and "a number of Coronas."
The rapper, Terry Peck, known locally as 2Pec, appeared before a Queensland court in Australia.
As reported by the BBC, the Police set off in hot pursuit of the man on jet skis.

When he was finally caught, 2Pec reportedly claimed that he jumped into the water to go help a friend who gave birth on the beach.

His bill was over $450.

Terry Peck, who has been charged with theft and assault, later said he didn't enjoy the lobsters he was served because they were overcooked.

The 33-year-old rapper appeared in court on Monday morning after the incident at Omeros Bros restaurant in Surfers Paradise on the east coast.

When told the details of the meal, magistrate Joan White exclaimed, "Oh God! By himself?" according to ABC News.

A restaurant representative, Mark Hunnybun, rejected the criticism of the standard of cooking, telling the network: "We pride ourselves on cooking our lobsters perfectly."

Australian media have uncovered some of Terry Peck's self-produced music, including one track entitled Ozi Ozi Ozi Oy Oy Oy.'
Lol....... Ozi Ozi Ozi......Oy Oy